Shamed actor Jussie Smollett has been released from jail after six nights behind the bars after.
In fact, Smollett is free based on the agreement with his lawyers pending the appeal of his conviction for lying to police about an attack on homophobia and racism. 
The actor was released from the Cook County jail surrounded by personnel. However, Smollett didn't say anything but his lawyers the actor is targeted by a racist justice system. Also, his attorneys said his conviction involved politics.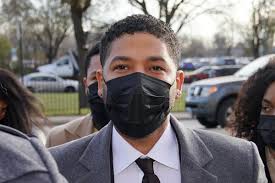 Smollett was sentenced last week after his conviction on five felony counts. Moreover, the actor was sentenced to commence 150 days in Cook County jail after which he moved for an appeal. After his conviction, Smollett said "I am not suicidal. And if anything happens to me when I go in there, I did not do it to myself. And you must all know that."
Jussie Smollett Released
Subsequently, Smollett was released from jail based on his recognizance bond of $150,000. After the actor left, his defense attorney, Nenye Uche, said Smollett's family is "very very happy with today's developments." Since his stay in the prison, Smollett didn't eat any food but drank only water. He however didn't tell why he didn't eat in jail. 
Uche expressed that the judge shouldn't have sentenced his client after Kim Foxx, the Cook County State's Attorney dropped the initial charges and the actor paid a fine.
Much more, he considered Judge James Linn's sentence as being excessive for such a low-level felony. "The real question is: Should Black men be walked into jail for a class 4 felony? Shame on you if you think they should," Uche exclaimed.
Dan Webb, a special prosecutor said, "His conduct denigrated hate crimes." He added. "His conduct will discourage others who are victims of hate crimes from coming forward and reporting those crimes to law enforcement."
Smollett reported to Chicago police in January 2019 that he was a victim of a homophobic and racist attack by two unidentified men who were wearing ski masks.