Floyd Mayweather Jr. is returning to the ring. FrontRow, ROQU in conjunction with Mayweather Promotions, put together an exhibition boxing match on a helicopter landing pad in Dubai for May 14, 2022.
The 45-year-old undefeated champion will take on "Dangerous" Don Moore,  (18-0-1, 12 KOs) in an 8 round exhibition fight on May 14. The event is being called "The Global Titans Fight Series." Mayweather isn't the only legend on the card. 46-year-old MMA G.O.A.T., Anderson "Spider" Silva, previously boxed pro fighter Julio Cesar Chavez Jr. in June of 2021; a fight he was victorious in.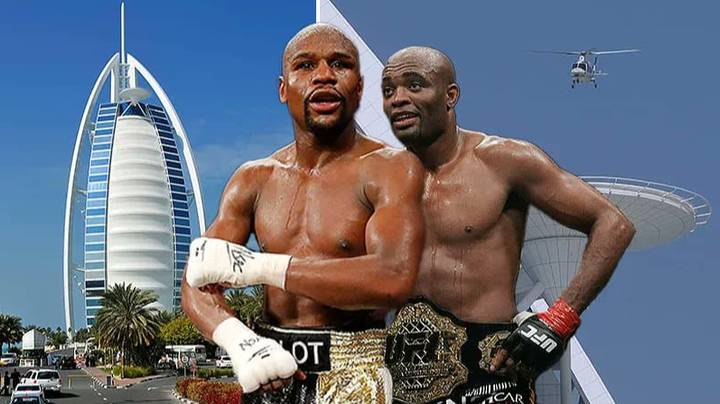 Spider also boxed Tito Ortiz last year. However, he didn't fare as well as Ortiz knocked out the former UFC champ.  Silva will be boxing Brazilian star Bruno Machado. These exhibition matches are starting to become redundant and ridiculous. It's obvious a lot of these guys still need some income after making millions.
Former boxing champ, Badou Jack (25-3-3, 15 KOs) is also scheduled to be on the card. Not sure who he will be squaring up against, but we're not excited. The location of the fights are outdoors at the Al Arab Hotel, one of UAE's top hotels. It'll be the first time Floyd returns to the ring since boxing Logan Paul on June 6, 2021. No winner was declared because the fight was an exhibition. Floyd makes a ton of money doing these fake fights. Is boxing becoming the new WWE?