Mike Tyson Beats Up Man On Airplane
It seems former heavyweight champion, 55 year old Mike Tyson, lost his cool and could be in some hot water. There is video floating around with Tyson seen repeatedly punching a fellow passenger on a flight from San Francisco to Florida on Wednesday night, leaving the man with a bloody forehead. 
According to TMZ, the man initially had a cordial exchange with Tyson. A witness says the man and a friend greeted the boxing legend as they boarded the plane and even got their picture taken with Tyson. 
Tyson soon grew tired of engaging with the fan and reportedly asked him to be quiet.
When the man continued talking, Tyson then stood, turned, and threw several punches to the man's face and forehead.
'Hey, hey, hey, hey, hey Mike, come on, stop that,' a witness is heard saying on the cell phone footage.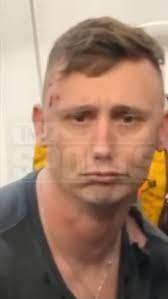 Another video from the flight shows the aftermath of the incident, with the man sporting traces of blood on his forehead.
'My boy just got beat up by Mike Tyson,' said the man shooting the video. 'Yeah, he got f***ed up. Just trying to ask for an autograph. I don't know what happened.'
Mike usually seems pretty cool calm and collected these days. Just last month Mike had a similar encounter with a guy who was apparently carrying a firearm. Witnesses told TMZ that the man ended up challenging Tyson to a fight in an attempt to improve what he called his "status". The host of the event asked the man to leave, at which point he pulled a gun. Tyson ended up hugging the guy and sending him on his way.