We have seen before and after photos of some of our favorite female artists. Sometimes we can't fathom the dramatic increase in their backside. Nicki Minaj
recently spoke about how she got ass shots early in her career in an interview with Joe Budden. 
The A-list rap artist is known for flaunting her peachy backside today, but the truth is, it wasn't always like that. According to her, when she was much younger and still under the wings of Lil Wayne in her early career, she got ass shots.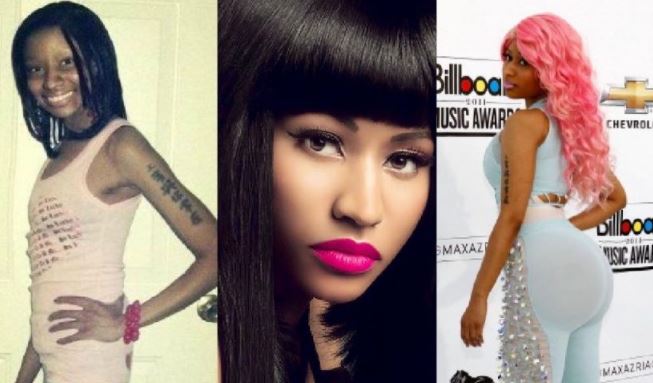 She said it was solely her decision to change her looks, but the mocking comments of rapper Lil Wayne might have played a role in influencing that decision. According to her, Lil Wayne used to make jokes about her small butt. Wayne was always surrounded by thick assed ladies so it seemed like that was the industry's standard. 
"Social media was just beginning when I started so I was a lot of people's guinea pigs. I was one of the first people to be sh*tted on the internet," the anaconda rapper said. According to the rapper, she never had surgery done because it was unacceptable to her then.
Nicki Minaj Explains Lil Wayne Influence
Diving deeper into the matter she told Budden " I had ass shots, which, to this day, I realize even with me not consulting with anyone to do something like that, how insane that was… And actually what happened was I kept on being around [Lil] Wayne and them. At that time, you know Wayne, he's always talking about big booties… Wayne would have a new chick in the studio every session. So they were his muses but I just was around them all the time and I was like the little sister. This is what you're supposed to look like in the rap culture and I don't look like that."
Of course, Joe Budden had to interrupt Nicki and ask if anyone was really pressurizing her into getting her ass thick or changing her body, and she responded with a no. But a few minutes down the line she said she was lying and spilled the beans.
"No! They never told me that– well, no. I'm lying. I think Wayne, I think they said stuff sometimes jokingly but to a young girl or up-and-coming rapper, when it's from someone like Lil Wayne, it matters. Even if they're joking, they don't know that the person that is there in that room with them is not finding it funny."
Who can blame Nicki Minaj though?! Back in the day, Lil Wayne was much like a rap godfather with a lot of influence in the entertainment industry. So, if he jokes about your ass not being thick you're definitely going to lose some sleep.