Rapper Tupac Shakur was gunned down September 7th, 1996 in Las Vegas. Willow Smith, who is the daughter of Will Smith And Jada Pinkett Smith, was born in 2000. But, for whatever reason, Willow was compelled as a child to write Tupac a letter asking him to come make her Mom happy, while still being married to Will Smith.  The letter, which was supposedly written by Willow, states that she knows he is "alive someplace" and asks him to "come back so mommy and me can be happy."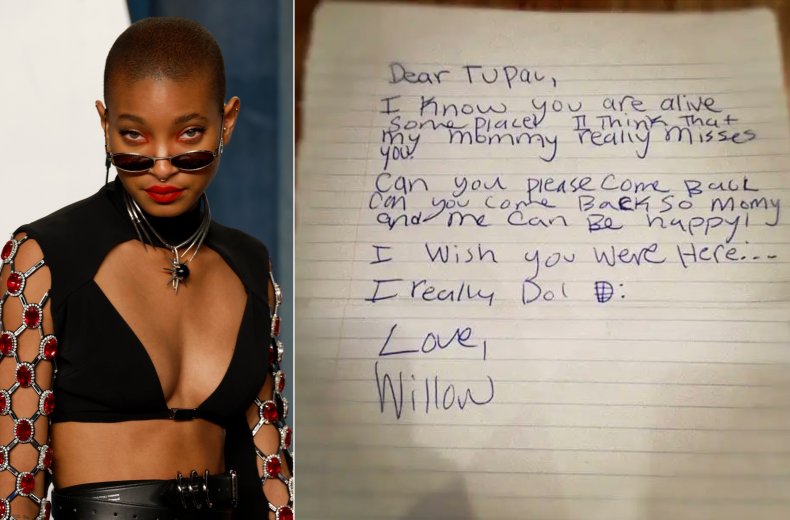 It's known to many that Jada and Tupac shared a close friendship while attending High School in Baltimore. Although she maintains their relationship was platonic, she doesn't shy away from talking about her admiration for the late rapper. Will has even publicly admitted to feeling jealous of the rapper even after his demise. He quoted that he felt he could "never live up to what Tupac meant to Jada."
Willow Smith Writes Tupac A Letter?
Willow Smith Writes Tupac A Letter!
Although many question the authenticity of the letter, it was was supposedly added to Instagram in 2012. This is according to Jorge Rivas at ColorLines. Willow, who was 11-years-old at the time, reportedly added a picture of the letter to her Instagram in August 2012 saying she wrote it "years" ago, but the post has since been deleted. 
Will Smith has been going through a lot lately. Since the incident involving Chris Rock at the Oscars, things seem to be spiraling downwards for the movie star. His biopic along with other film projects have been halted for the time being. He also stepped down from the Oscar Academy. However, he was allowed to keep his Oscar for best actor for his role in King Richard.